Free/Reduced Price Meals Program
Children need healthy meals to learn. The Miller School District offers healthy meals to all enrolled children at no additional cost. The U.S. Department of Agriculture (USDA) provides reimbursements for healthy meals and snacks served to children enrolled in the Miller School District.
Letter to Parents/Guardians and Application Form
Confidential weekend meal program available to all children K-8th grade. Easy to prepare snack and meal items for the weekend, distributed by the teachers into the children's backpacks on the last day of school each week. Organized by the Miller United Methodist Church with partners throughout the community and funded by grants and donations.
If interested in having your child(ren) participate, please contact the elementary school office.
Families in need of help with school supplies and backpacks can sign up at Polly's Shoe Store beginning August 1. Backpacks are available for pick up at Polly's Shoe Store in August.
For more information, contact Tammy Caffee at 605-870-1905.
Feeding South Dakota Mobile Food Pantry
Helping Hands Thrift Store and Food Pantry: Families can receive donated food items at NO CHARGE. The store is open Tuesdays-Saturdays.
Helping Hands voucher program allows individuals to go to the store to get fresh fruits vegetables, milk, etc. Go to the store to receive the voucher.
Free Online Tutoring Available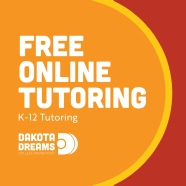 Affordable Connectivity Program